A number of units are supported. Please inform me if you need a unit that is not in the lists below.
Temperature:
•Kelvin
•Celsius
•Rankine
•Fahrenheit
Pressure:
•Pa
•Bar
•Atm
•kPa
•Psi
•MPa
Composition:
•Massfraction
•Molefraction
•Kg/Hour
•Ton/Hour
•kmole/Hour
Enthalpy
•kJ/Kg
•kJ/Ton
•kJ/Hour
Entropy
•kJ/(Kg Kelvin)
•kJ/(Ton Kelvin)
•kJ/(Hour Kelvin)
The units in the current Project sheet can be changed by two methods:
•By using the unit window
•By typing the new units directly into the project sheet
Using the unit window
Selecting: VLXE/Project/Change units to bring up the unit window
This opens the unit window that lets the user to set all the units: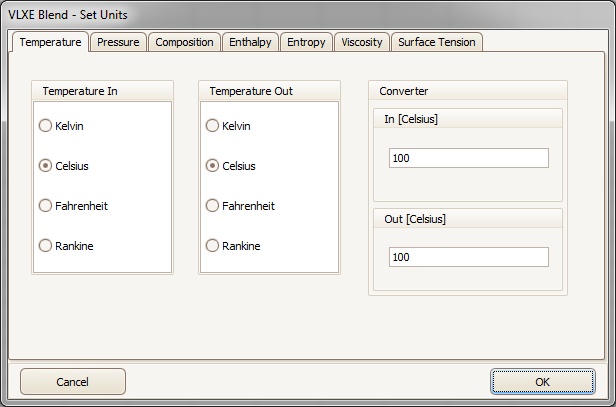 Click OK to read the new settings into the project sheet.